Using Twinkle to make a simple call
To make a call using Twinkle, the preferred client for Fedora Talk, enter a number or name in the "Call" text box at the top of the main window.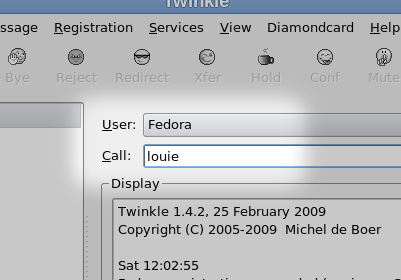 The numbers below are special test lines that may help you verify your setup.
1001 - louie - Louie Louie - You should hear a female voice reciting the lyrics to Louie Louie - this is testing the ability for you to receive one way audio
1002 - echo - Echo - this simply echos everything that you say back to you. This tests that two way audio is functional
1003 - callback - When you call this number, you should hear something. When you do, hang up, and in approximately 10 seconds, the system will call you back. This tests the registration on the Asterisk server itself.